Emergency situations such as natural calamities, wars, pandemics, and so on can happen without any warnings, and hence we must be prepared to tackle situations efficiently and prevent losses and damages to life and property. Hence contingency planning and disaster recovery as well as their proper execution hold much importance. Water crisis may often happen in such situations, and hence storing water long term is important. Also, this water must be safe and clean to drink. Emergency long term water storage is a crucial segment in contingency planning at government as well as private levels, and these teams always look for effective and handy water treatment as well as storage solutions. At Intec America, we work closely with many such governmental and non-governmental organizations involved in contingency planning, and have offered effective long term drinking water storage solutions. Thanks to our experience in water treatment solutions over the last few years, our long term water storage treatment solutions help keep the water clean and prevent the growth of bacteria, mosquitoes, algae, and other contaminants.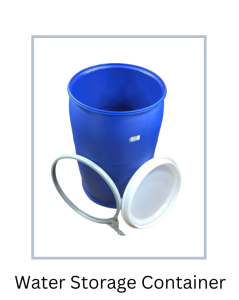 Types of Long Term Water Storage Solutions Offered by Intec America
While buying packaged or bottled water is a solution, it may not serve for long term use and there may be issues with transporting the water as well. So, it needs to be stored in big FDA-approved water storage containers which can store a few gallons at a time. At Intec America, we offer a variety of water storage as well as purification and testing tools which can be used quite easily in homes, community halls, and other public places. These are handy and can be easily carried along. In any calamities, the source of water as well as purity cannot be guaranteed. Hence, testing and storage tools are necessary, and we offer just the same.
Water storage containers: We offer FDA approved water storage containers or barrels as well as tanks of various capacities. These meet the required FDA standards for water storage. Mostly made of sturdy plastics, these containers may store water around 50-55 gallons.
Duration of Storage: It is optimal to store water for at least 3 days to 2 weeks depending on the usage. For hospitals and commercial facilities, we often recommend water storage for 2 weeks.
Water softeners: These are especially useful for well water. Water softeners determine the heavy metal levels in water and reduce them to an acceptable level by adjusting the ion exchange rate.
pH neutralizing filters: The pH of drinking water must be around neutral which is from 7 to 8 or so. We offer pH neutralizing filters which can be fitted across pipelines as water flows through them. Water with neutral pH helps reduce pipe corrosion as well.
Sanitation systems: We offer UV disinfection systems which instantly kill bacteria and other germs in water. UV light when passed through water degrades the DNA of these organisms. They can be used for cloudy or turbid water to make it usable, regardless of its source. This system is compact and comprises a chamber with UV light. Water is passed through this chamber and exposed to UV light.
Emergency Preparedness and Long Term Water Storage
Water storage is crucial in emergency situations, as it is an essential element for survival, even in the most difficult times. Hence, as part of contingency planning, water must be stored for a minimum of three days and tested regularly as well. Here are some pointers which may help store water for drinking and other uses for long term and keep it clean too.
It is a fact that the consumption of water and other necessities during any calamity will be reduced than normal situations, and this must be stated in the contingency plan. This helps in long term water storage.
When deciding these quantities of water for a particular area, it is necessary to consider the population there and their average water consumption. For instance, in hospitals and healthcare centers, the usage will be much more than in offices or even homes. This is because of the hygiene aspects, patient health, pregnant women, and other factors. The same applies for homes with kids, senior citizens, pets, and so on.
The above factors help decide the quantity of water per barrel and likewise the number of barrels required in an area per day or week, depending on the calculation.
Another important aspect we cover are the water filtration tools which are really handy and help keep the water safe and clean. These include tools for disinfection, pH control, and so on. You can use these tools on the spot and get instant output.
If you are a part of contingency planning team and need solutions for drinking water storage and more, you can totally rely on us. The team at Intec America offers absolutely reliable solutions which keep your water safe for drinking and consumption. You can share your requirements with us and we will be happy to help you with our tried and tested long term water storage solutions. If you need any further information or assistance regarding the same, you can reach us via phone or email.
Get in touch
Are you ready for a Quote on your Project? Please fill out the following fields to request a quote, get more information or submit a testimonial..
Why Intec America?

Developed by NASA
Intec was the first to commercialize the NASA related research on the ionization technology

Value
Ionization is least expensive alternative for maintaining your pool or spa.

Eco-Friendly
Ionization is chemical free and chlorine free. Intec offers many technologies that are healthier for your family and better for the environment.

Experience
Intec has been offering new and innovative technologies to market for over 45 years.