Filtering is the most basic step of water purification at domestic levels. It can be done in many ways from applying simple filters to your tap to or even setting up a reverse osmosis water purifier at home. Water goes through various purification stages before it is supplied to households, and larger purification systems at the local government level also use filtration as one of the steps. Here, we focus on the domestic or household level water purification or filtration systems. This post focuses on various types of filters used to make your water clean and potable for drinking and how to install them.
Various Types of Filtration Systems for Clean Water
The term filtration implies the use of some barrier or a screen when filling water, to collect residues or reduce the impurity/contaminant level. However, with filtration systems, these filter could range from a cartridge to nanofilters, biological filters, and so on. Here are some types of water filtration systems:
Air injection filters: This is a filter used to treat hard water with metals such as manganese and iron as well as sulfur compounds. Air is introduced into these filters and a gas pocket is created at the top. Air acts as an oxidizer and aeration process is carried out which precipitates the contaminants.
Ozonation filters: In this type of filter, ozone gas is injected into the water. This filters out iron and other minerals.
Cartridge filters: These are widely used and have been prevalent since decades. These cartridges remove suspended particles and sediments. They are widely used in water purifiers with RO. Cartridges can remove particles as small as one micron. Carbon black cartridges also remove pesticides and chlorine. However, this filters need to be disposed after a certain number of use.
Bag filters: These filters have a huge flow rate and are usually used for commercial purification systems. These also remove suspended matter from the water and are more cost effective compared to cartridge filters.
Screen filters: These are used for huge volumes of water to remove sand and large sediments. They work either manually or by applying centripetal force.
Disc filters: These are automated filters mostly used in industrial applications, and are low on maintenance.
Microfilters, ultrafilters, and nanofilters: This is used as a three-in-one filtration system with each having specific applications. This works without any chemical usage and removes bacteria, viruses, chemicals, tannins, from the water. Nanofilters pretreat water which is further purified through reverse osmosis.
Backwashing filters: These filters can be customized and are called self-cleaning filters. They remove chlorine, iron, manganese, sulfides, and other copntaminants from the water.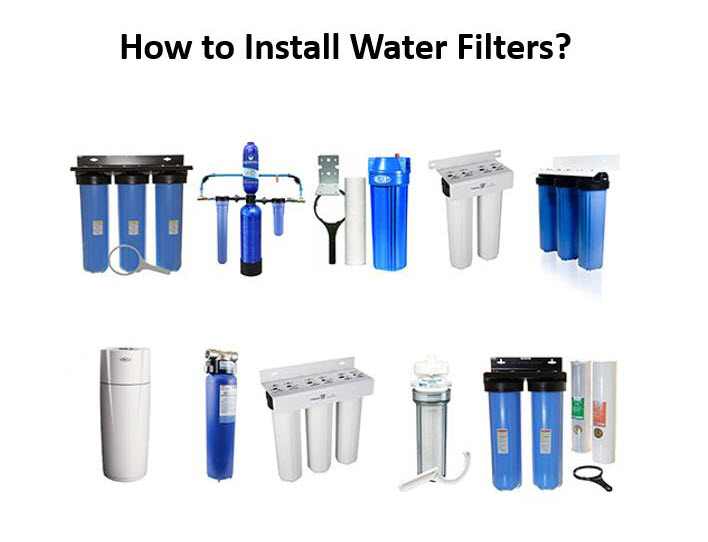 How to Install Under-Sink Reverse Osmosis Systems
This installation process is largely for cartridge-based filtration systems and other filters which come in an enclosure unit which can be wall mounted. Most filters are assembled in an enclosure. This whole unit us either kept on a stand or mounted on the wall close to the basin. These systems come with an attached dispenser. You can use plastic tubing, valves and screws to connect the filter to your tap. This is especially common for water purifiers with a reverse osmosis system with cartridge filters. There is an outlet tube which throws out the impure water and pure water is retained inside the storage tank attached to the purifier. Here is how you install them:
Drill a hole if required and mount this dispenser unit at the top of the sink or basin. For this refer to the guidelines mentioned by the manufacturer.
Drilling a hole is quite a skill and depends upon the material of your sink such as stainless steel, granite, porcelain, or any other.
Turn off the main water supply tap and drain the water. Drill a hole in the drain line behind the P trap and fix a saddle valve and tighten.  Run the waste water line on the RO to the coupling on the saddle valve.
Most newer system are provided with a 3-wat shut off that is attached to the incoming cold water line.  Reattach the hose from the shut off valve to the new 3-way valve provided.
Align the cartridge system in sync with the water supply line, and make sure you leave space to replace the cartridge when required.
Fix this whole cartridge unit with screws, on the wall.
Cut the plastic tubing to the required length. Keep it a little long.
Through this tube you can connect the filtration system with the tap supply line. Fix the screws and tighten them manually.
Cut another piece of a more flexible tube to the outlet port of the filtration system.
Thread and check the nuts and screws onto the dispenser and the water supply line.
Now start the water supply. Let the water flush out for a few seconds as it clears any carbon particles and trapped air inside the system.
Do you require water filters for domestic use? If yes, ensure you approach a reliable player such as Intec America, which offers safe water treatment solutions for domestic consumption. They offer end-to-end solutions for residential water treatment systems, such as filtration, disinfection, water softening, pH control, reverse osmosis, and so on.
Recent Blog Posts