Introduction
Owning your own home comes with a lot of perks and benefits, including the right to customize your space, including your backyard, to your heart's desire.
Having your dream pool in the backyard can be a huge part of making your home the home of your fantasies. To really capture the feeling though, the best option is to get a custom pool.
There are a lot of reasons to choose a custom pool over a pre-built or highly standardized pool. For one thing, if you build a custom pool you can pick and choose the additional features you want, and build a pool specifically meant to accommodate them.
Want a small infinity pool? You can do that. Want a built-in hot tub on the side? You can do that. Want a fantastic water slide? Done.
The other benefit is that the pool can also be customized to fit the space you have available, from meshing with the existing landscaping, to avoiding important utility lines, and keeping garden spaces intact. You can't always get the pool you want, in a pre-designed model, and get those benefits in your yard.
The trick is that to get a custom pool you need a custom pool builder. Ideally you need someone who has a lot of experience designing and installing custom pools, and someone you feel comfortable working with and having around your home during the installation.
Here's what you need to consider when choosing a custom pool builder to create the pool of your dreams!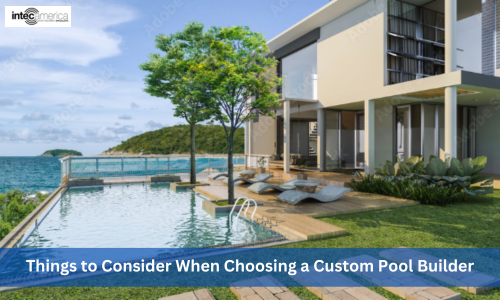 1. Personalized Pool Design
Personalized pool design is one of the most important perks of getting a custom pool. An experienced builder will know what kinds of questions to ask to help you discover and design the perfect pool for your needs.
No two people are the same, and no two custom pools need to be the same either.
Personalizing your design also gives you a lot more control over the shape and features in your pool. You can customize shape, outline, the depth, and add other features to make the pool truly unique.
Unlike a lot of pre-designed pools, you may also be able to find a builder able to create different depth zones in your custom pool.
2. Unique Aesthetic Appeal
Having a pool can be a big draw when it comes to selling your home and getting the most value from it. But, let's face it, most pre-designed pools are ugly rectangles and stick out like a sore thumb in the average back yard.
That's not the worst thing in the world, but it doesn't have the advantages of a truly beautiful pool either.
Working with a pool designer also means you have a lot more room to get creative in how you fit the pool into your landscaping, and even disguising maintenance areas and other necessaries so that they don't distract from the beauty of the landscape.
You also get more control over the materials, like the walkways around the pool, the liner used inside the pool, and other decorative features.
3. Quality and Craftsmanship
When it comes to pools, nothing is more important than the quality of the build and the craftsmanship that ensures the pool will survive for years.
Broken and leaking pools aren't just non-functional, they can seriously damage your home and yard. Depending on the placement of nearby utilities, you might also find yourself on the hook for their repair costs as well if your pool causes a problem.
Custom builders put craftsmanship first. If they think a pool won't work, they will keep working until they come up with a design that does work in your yard. They also focus on the long term durability of your pool, doing everything they can to ensure that you'll have a beautiful pool for decades to come.
Custom pool builders also often work with specialized contractors and skilled artisans to bring their vision for your pool to life.
When you work with a custom builder you're actually working with a team of the best and most skilled contractors and artisans in your area.
Plus, these builders routinely use the best materials and the latest technologies to ensure their pools hold up.
4. Innovation and Technology
Speaking of the latest technologies, pools, like any modern technology, are constantly changing as more research and development shows us new ways to make them even better and more durable and enjoyable than they already are.
You can work with a contractor that doesn't have a ton of experience working with pools. But what you won't get when you work with any random contractor is the know-how and up-to-date knowledge of the technology and techniques leading the industry.
Custom pool builders work hard to stay ahead of the curve, and are always researching and comparing new technologies and techniques to incorporate into their businesses.
That means that your pool can benefit from the latest in pool efficiency, filtration technology, and more when you choose a custom pool builder.
5. Collaboration and Communication
Something you won't get when you choose a pre-made pool design is the collaboration and connection that comes from working with a custom pool builder.
Anyone who does custom design and building work knows that it's critical to develop a relationship with their clients to make sure they know exactly what that client is looking for.
That means that creating a custom pool with a custom pool builder is actually a work of collaboration. Often, the design is as much yours as it is the builder's because they listen to your feedback and input to guide their technical know-how in the design.
Custom builders also tend to be better at staying in contact with clients, and will keep you updated on supply timelines, building estimates, the cost of different materials and equipment, and work hard to make sure you are included in every step of the process.
Conclusion
Choosing a custom pool builder might seem like it's too expensive or too time consuming at first, but there are so many good reasons to choose a custom builder over the alternatives. In the end, you'll get a better, more durable, more beautiful pool that will increase the value of your home far more than a pre-designed pool.
Plus, you'll have an opportunity to really put your stamp on your home, and create a space that feels uniquely yours.
Building a custom pool is also just a great experience, and homeowner get a new sense of pride when they get to see their finished and swimming-ready pools for the first time.
If you're thinking about getting a pool in your backyard, don't cheat yourself, build custom.
Recent Blog Posts