Introduction
One of the most important decisions you can make, after you've decided you want a pool, is choosing the pool contractor to build it.
There are a lot of things that go into making a good pool, and you need to choose a contractor who understands the requirements and how to build a long-lasting pool.
Choosing the wrong contractor doesn't just mean that your pool might not last as long, it can also cause serious problems that may even damage your yard, your foundation, or cause other problems.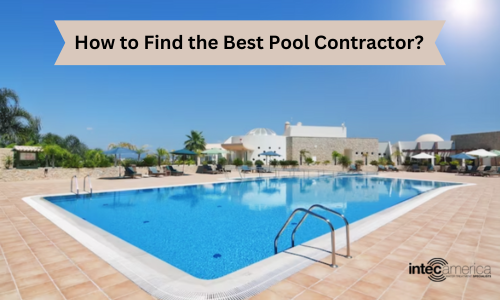 Understanding the Basics of Pool Construction
It's a good idea to have a sense of what pool construction requires before you start talking with contractors. Knowing what to expect can make it a lot easier to tell when a contractor has enough experience, vs someone who is potentially taking on their first home pool project.
Remember that pools need to work around utility lines, any existing plumbing, and other obstacles, while also meeting your requirements. This isn't as simple as putting a hole in the ground and lining it with concrete.
Impact of Having a Well-Built Pool on Your Property
Having a well-built pool can increase your home's property value and appeal. However, it can also increase your home insurance rates and can even make your home a little more vulnerable to mold and other problems.
Those things aren't necessarily a bad thing on their own, but you should be prepared as the homeowner.
Importance of Research in Choosing a Pool Contractor
Don't just choose the first pool contractor you find. It's important to check references and do other research into their business and past projects. That way you can have confidence that you've found the right contractor.
Here's what you should consider.
Experience and Expertise
Experience and expertise count separately. There are contractors who specialize in home pool installation and maintenance work. They will generally have the most expertise since this is all they do.
But contractors that also take on other kinds of work can still be a good option. The main thing is that they need to have experience from successful pool installations. Look for a portfolio of the pools they've installed in the past, and other signs that the contractor you're considering knows how to do the work.
References, Reviews, and Testimonials
A skilled contractor should always be willing to provide references from previous jobs, or even other local contractors who are familiar with their work.
You should also look for customer reviews and testimonials, since those are going to give you a more honest look at what the contractor does and how their clients feel about the work.
Many pool contractors will have their own websites with this information, but google, neighborhood websites and review sites, and job boards can also be good sources of information about a potential contractor.
Design and Communication
Contractors need to be able to do more than just the work. They also need to have communication skills, keep you informed of the project, and have the skill either to create a unique design for your project, or to take someone else's design and turn it into a building plan.
These are secondary skills for most contractors, but they can have a huge impact on your pool. The last thing you want is to pay for an expensive installation, only to get a pool you don't like. And you don't want to be surprised by last minute delays or changes in the work schedule, either.
Transparent, Detailed Contracts
Contracts are almost an art form of their own, but the most important thing to look for are clear, detailed, and easy to understand contracts. Your contractor should be able to provide a sample contract for the work, or even examples of previous contracts with the client information redacted for privacy.
If they don't have example contracts, you can ask to see a contract going over what your project would look like, if you move forward. Make sure to read the contract thoroughly, and make sure you're happy with the terms of the contract, before moving forward.
How to Choose the Right Swimming Pool Contractors
Here are a few things that can help you narrow down the list of qualified contractors in your area, and find the right person for you.
Qualities to Look In Pool Contractor
There are a few things you should look for to know that you will work well with the contractor you're considering. The truth is that not all contractors are a good match for all clients, regardless of their skills or other qualifications.
You and your contractor both want to have a good working relationship for the duration of the project. Here are some of the signs that you're likely to get along well enough to move forward:
You feel comfortable talking with your contractor and asking questions.
Your contractor has answers ready for you when you ask.
Your contractor seems professional and understanding in your interactions.
They haven't tried high pressure tactics, complained, or otherwise tried to influence your decisions.
The contractor or their company provide clear contracts, have plans in place for dealing with unexpected problems, and are willing to clarify any contract-related questions you might have.
You feel comfortable with the idea of this contractor, and their crew, working in your backyard.
If you are considering a contractor and realize you are uncomfortable with some of the interactions you've had, that's a good enough reason to choose someone else instead. Even if they have a great portfolio and quality references, you deserve to work with someone who helps you feel comfortable and at ease.
Portfolio of Past Projects
Make sure to look at your contractor's past portfolio of work. Ideally, they should include photos of the projects as they were finished, and maybe one or two photos of how their work aged over time, 1-2 years later, or even longer.
Even if they are showing you example photos from their own pool installation, or other work, that can still be a good way to see how their work ages over time.
Experience and Track Record
An experienced contractor isn't necessarily a good option if their track record shows a lot of unhappy customers, failed pools, or a portfolio of work that doesn't look good to you.
Look for contractors that have at least a few years of pool installation experience, and whose track record suggests that they do good work.
Maintenance and Long-term Consideration
Remember that installing a pool is just the first step. You'll also need to install a and circulation system, and all pools need at least occasional maintenance to keep working properly.
Depending on your pool, you should plan for weekly or bi-weekly maintenance.
Of course, some contractors also offer ongoing maintenance services to their customers. If you choose this option, make sure you talk about how often they anticipate servicing your pool, and what local conditions might present a maintenance challenge.
Commercial General Insurance Policy:
When evaluating pool contractors, it's essential to ensure they hold a Commercial General Insurance Policy. This policy provides coverage for property damage or injuries that may occur during the project. Verifying this insurance policy guarantees your protection and peace of mind throughout the construction process.
Workers Compensation Policy:
Additionally, confirm that the contractor has a Workers Compensation Policy in place. This policy is crucial as it covers the medical expenses and lost wages of workers in case they are injured while working on your pool. Ensuring the presence of this policy is essential for your security during the project.
Warranty Coverage And Post-Installation Support
Even if you choose a contractor that doesn't offer a long-term maintenance plan on your pool, you should talk with them about warranty coverage and what kind of post-installation support you can expect.
You should have at least a couple of years warranty coverage against pool failure, and they should be available to answer maintenance and construction related questions for at least a couple of weeks after the installation.
Additionally, these terms should be outlined in the contract so you and the contractor both know what is expected.
You don't want to work with a contractor that doesn't offer at least a short-term warranty, or that refuses to answer questions after the job is complete. After all, no one is going to understand your pool better than the person who built it.
Recent Blog Posts