Having a private pool is a dream of many people. Alternatively, having access to a neighborhood or community pool serves as a wonderful opportunity to exercise daily and enjoy bathing in the warm sun. If you do not currently have a pool and are considering building one, there are some factors you must consider. It is crucial that swimming pools are maintained and cleaned regularly. Chemical balances and sanitation via chlorine or other methods is the key to a safe pool. There are many drawback to pool sanitation chemicals and many users later convert from chlorine to healthier alternatives. Installing an ionization system right from the beginning would really take care of the sanitation and maintenance aspect and would save you money. Even if you have a traditional chlorinated or saltwater pool, conversion to an ionized pool is quick and easy. This post discusses the steps to build a swimming pool and installing ionizers.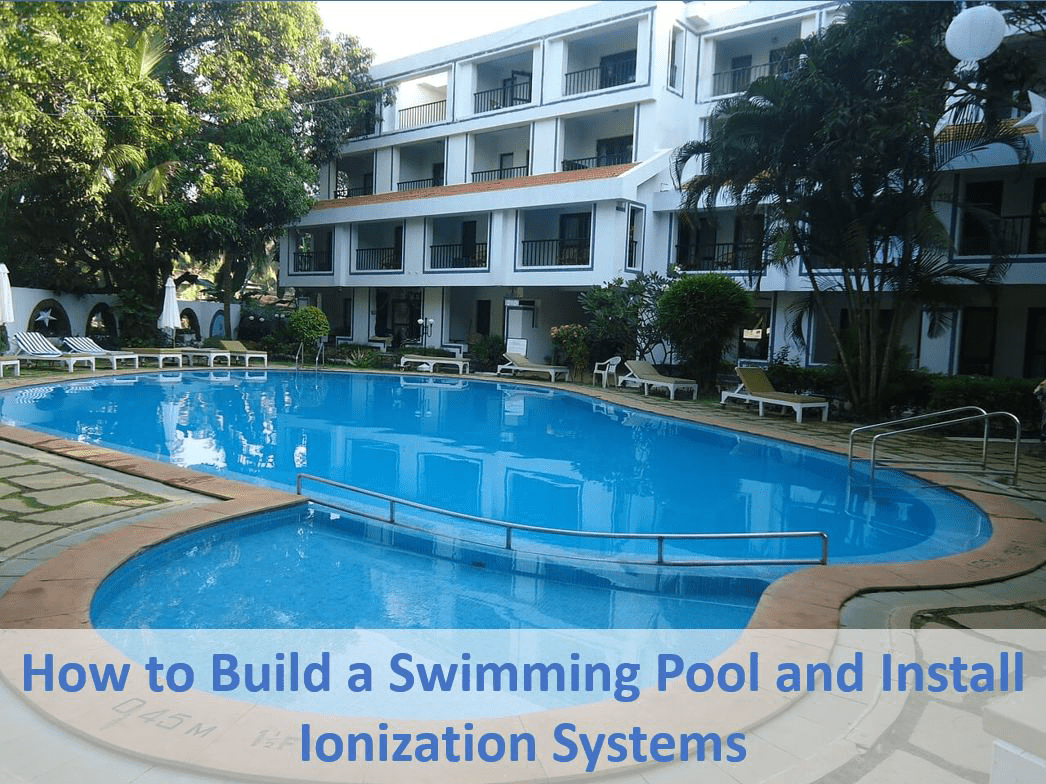 Steps to Build a Swimming Pool
Here are some factors to consider when building a swimming pool which may be helpful.
If applicable, check with your HOA to make sure a pool can be built on your property and what limitations / restrictions are in place.
What is your budget and how are you going to pay for the pool? Building a custom in-ground swimming pool can be quite expensive; especially, if you add landscaping, water features, or an outdoor kitchen. Cash or home equity loans are the most common methods while some third parties offer loans that carry higher rates.
Check with your insurance company and see if a swimming pool would be covered, what might be the increase in premium, and what could cause any gaps in coverage (lack of fencing, diving boards, slides, ect.)
What is the purpose of the pool? Exercise, swimming laps, diving, lounging, relaxation, entertaining, or strictly aesthetics.  This is the starting point for space requirements and will ultimately lead to the size and the design of your swimming pool.
It is suggested that you seek and interview several reputable pool builders that are insured and carry workers compensation insurance. Ask for references and check with the Better Business Bureau (BBB) for any unresolved complaints. Keep in mind, any contractor that has been in business for years is bound to have some complaints filed.  This should be expected as many complaints are unwarranted. You do not want a contractor that has many unresolved  Your builder will assist you with any permits that would be required.
Once the intended use of the pool it is decided, your builder will assist you with the options on pool placement. You may need to consider the movement of the sun, avoiding or removing trees, and using natural slopes and landscape of the property insinuate a blending of the pool to your home. Your land may need to be leveled and, in some instances, reinforced to support the design and heavy weight of the swimming pool.
The size is important as it also relates to intended use of the pool. Multi-functional use pools for swimming laps, diving, wading, and tanning ledges would require a lot more building material and ultimately cost more.  Research has shown bathers spend 70 precent of their time wading. If the initial quote for building the pool is over your expectations, consider a smaller pool without a diving board and deep end.
Keeping the pool design simple is key if you are limited in your budget. Consider a minimalist approach with straight lines and one that holds a smaller volume of water with a consistent depth. Another advantage of smaller pools is the maintenance chemical usage and electrical requirements are less and the sides and bottom are easier to brush if necessary. Nonporous surfaces (non-concrete) are easier to maintain and also reduce chemical costs.
Free form pools that have non-uniform sides, varying depths, and tanning ledges will cost more to build. A pool with water features and natural stone walls/formations are even more expensive. Porous materials utilized for construction will increase chemical maintenance costs and are more prone to algae attachment and mineral scale buildup when your water chemistry is off. Your choices may be limited to the type of surface that you choose.
If you find that your wants overstep your budget, perhaps you might consider an above ground pool. These are by far the most popular and are less expensive than inground pools.  Most can be installed in a single day. To add ambiance, high deck can be added for the entry way and some consumers opt for a semi-submerged variation where the half of the pool is can be submerged in the ground with a lower deck. With a well-designed deck, it can rival an inground pool and still be half the cost.  You are very limited to the depth (54" – 60" being the norm), to the shape (which is usually a circle or oval), and the surface material which will be vinyl (discussed later).
You basically have three options for a swimming pool surface. The options are 1) concrete, 2) fiberglass, and 3) vinyl. Concrete pools are the most expensive and take the longest to build.  Fiberglass pools can be installed much faster and have the longest lasting and require the least maintenance of any type of pool surface. Vinyl liner pools are the least expensive to build but the liner needs to be replaced several times over the life of the swimming pool.
Concrete pools go by a few names depending on the application method. Gunite is the industry term used for a dry-gun concrete application while shotcrete is used for a wet-gun concrete application. These pools are finished with a choice of plaster, aggregate, or tile. All finishes have their pros and cons. However, plaster pools, Pebble Tec, or tile all have concrete reinforced backing/surfaces. Plaster is the least expensive, but it requires the most maintenance.
It is important to consider the water source. All water will have mineral content. Private wells, for example, may have high iron or manganese that could stain the surface of the pool. If your water does have high metal content, consider buying a whole house filter to remove these impurities as it will save you time and money in the long run.
Do your research before building your own pool and using subcontractors. It could save money upfront by building a pool on your own. However, making structural repairs or repairing underground leaks on an installed inground pool may cost more than building a new pool from scratch. Above all, seek professional help when and where required, especially for cleaning and maintenance.
Significance of Using Copper Ionization in Swimming Pools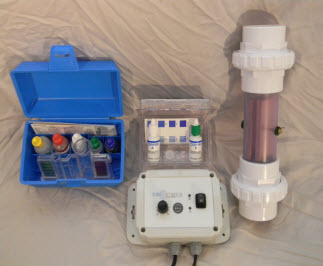 Chlorine has been used for water sanitation in swimming pools from decades. However, with people gradually shifting more to non-chemical, chlorine-free purification methods, ionization has really gained momentum. Here are a few pointers regarding the same.
Ionization is the preferred chlorine substitute when building swimming pools. It offers total safety as it deactivates the germs in water without causing any side effects or disinfection byproducts, unlike chlorine.
Ionization has the longest lasting sanitation residual of any swimming pool method. It does not require the use of stabilizers.  Metal ions are effected by sunlight or temperatures that cause chlorine and bromine to rapidly dissipate.
While copper ions are toxic to microbes, copper is a nutritional and beneficial element that the human body requires. Thus, it is the only healthy option for swimming pools.
Ionizers work on the principle of releasing metal ions into the water which are toxic to microorganisms that you do not want in your pool. This deactivates the growth of bacteria, viruses, and algae. Good transition metals such as copper, zinc, or silver are commonly used in the process.
These ions are released through electrolysis and are produced using electrolytic controller devices generally referred to as ionizers. Ionizers produce a low-power electric current into the in-line flow cell which is installed in the pool plumbing. The flow cell is comprised of a conductive metal (or alloy) cathode and anode (electrodes). This electrode cell is usually plumbed in the return line after the pool filter. The flowing water picks up and carries the released ions and are recirculated thought the swimming pool and plumbing.
Ionizers, especially copper ones, offer a dual advantage. They not only clean your pools but also inhibit the growth of germs by penetrating their cell walls and deactivating them.
If you plan to build a swimming pool or install copper ionizers for water maintenance, ensure you approach reliable players. Intec America is an expert in copper ionization systems and offers safe water treatment solutions for swimming pools and spas. They also offer end-to-end solutions for residential water treatment systems and more. The company is the first one to commercialize the copper ionization technology developed by NASA.
Recent Blog Posts