There are several annual holidays that we all look forward to. These holidays are special because we plan our vacation and family gatherings around them. The vacation is always planned during the time of the year when kids are out of school because that allows parents to relax and plan their holidays effectively. The term staycation has gained immense popularity in recent years. With coronavirus grappling countries across the globe, people are planning their staycation seriously. The staycation can be easily organized in your garden or patio or nearby the pool. If you are planning a pool staycation, there are several things you need to keep in mind.  This post offers how to prepare for your pool staycation easily.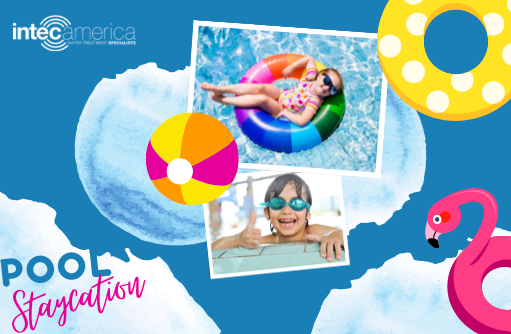 What is a Staycation?
This is a combination of two terms – stay + vacation. Unlike a regular vacation, you do not need to travel anywhere during the staycation. You can enjoy all luxuries of a vacation by sitting at a home. For instance, you can relax in the swimming pool or enjoy a lavish meal on your patio with your family and friends. There are different ways of organizing a staycation. However, a pool-themed staycation can be the best choice as it allows you to relax by the pool, love sunbathing, and above all – swimming is the best form of exercise you can indulge into.
Having said that, you cannot just dive into the pool and start swimming or start partying near it. Like any other party, or vacation, your pool needs to be prepared for the staycation. The next section offers tips on how to do it effectively.
Tips to Prepare Your Pool for Best at Home Staycation
Here are a few easy-to-follow tips to prepare your pool for a memorable or best at-home staycation experience.
Clean the Pool: This is the first step of any pool maintenance program. You can start by brushing the sides of the pool to remove scales and dirt. You can vacuum the pool by using a special vacuum cleaner specially designed for pools.
Check the level of water in a pool: Ensure your pool has an adequate water level. It is always recommended to keep the water level slightly above the required level. This will help you enjoy your swim, and also compensate for water loss due to evaporation.
Check Alkalinity and pH Values: It is important to test your water to ensure proper alkalinity and pH levels because they add to the quality of water. If the levels are found too high or low than recommended then you must take appropriate measures to correct it.
Remove Debris and Contaminants: However hard you try, still, there are chances of finding some debris at the bottom of the pool. If left as it is, the debris may impair your best at-home staycation experience. They will be all over your body when you dive into the pool for a good swim. You can use a good skimmer for removing the debris found at the bottom of the pool. Ensure the pump and filter are also clean and have no debris or contaminants in them.
Sanitize Your Pool: Sanitizing your pool is quite important if you wish to enjoy a best at-home staycation experience. Chlorine has been one of the most popular disinfecting agents used for sanitizing swimming pools. However, due to the rising concerns on their side effects on human health, chlorine is now being replaced by chlorine-free sanitization options such as pool ionizer systems. These systems are fitted with copper electrodes and are connected to an electricity source. They produce copper ions passing the electric current. These ions rupture the DNA structure of microbes and impair their growth by affecting their food intake capability. Unlike chlorine, the copper ions do not produce any byproducts on reacting with water and other contaminants in water. Thus, they are perfectly safe for human beings.
Take All Safety Measures: Safety is extremely important and you cannot leave your pool unattended. You need to install proper safeguards to prevent accidents while entering the pool or while swimming in the pool. Child safety locks, solar covers, and safety covers are a few safety measures that you can consider.
The above tips will help you design a memorable and relaxing best at-home staycation nearby your swimming pool. Always take care to use the right and quality products for cleaning and sanitizing your swimming pool. If you are planning to invest in a chlorine-free sanitizing option like a pool ionizer system, it is always recommended to source it from a trusted manufacturer like Intec-America. The company is today regarded as the pioneer of water treatment, it was one of the first companies to commercialize copper ionizer systems used for sanitizing drinking water for swimming pools. The company also provides various commercial and residential water treatment systems.

Recent Blog Post